Brochure istituzionale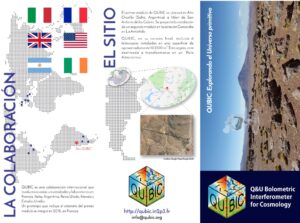 Spagnolo
Inglese
Café de las Ciencas (5 maggio 2021)
En el Café de  las Ciencias, organizado por el MINCyT y la Embajada de Francia, que tuvo lugar el 5 de mayo de 2021, Matías Zaldarriaga y Jean-Christophe Hamilton disertaron sobre Cosmología y QUBIC e interactuaron con más de 100 asistentes!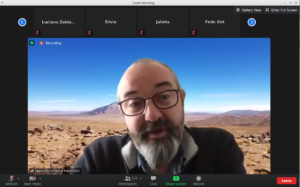 Uno de los objetivos de la cosmología es entender los primeros momentos del universo, lo que se llama "el universo primordial". Una de las teorías más prometedoras se llama "inflación", la cual describe una fase de expansión extraordinariamente rápida cuando el universo tenía sólo unas pocas fracciones de segundo de antigüedad. El instrumento QUBIC, que se instalará en Argentina en 2021, está diseñado para tratar de confirmar esta teoría.
One of the goals of Cosmology is to understand the first moments of the universe, what is called "the primordial universe." One of the most promising theories is called "inflation," which describes an extraordinarily rapid expansion phase when the universe was only a few fractions of a second old. The QUBIC instrument, which will be installed in Argentina in 2021, is designed to try to confirm this theory. 
QUBIC Un esperimento internazionale di cosmologia osservativa
con partecipazione argentina. (Volume 26, numero 156 luglio – agosto 2017).