NOVEMBER 23, 2022 – INAUGURATION OF THE QUBIC INTERNATIONAL OBSERVATORY OF COSMOLOGY
With the presence of national (MINCYT), provincial (Ministry of Education, Culture, Science and Technology of Salta), municipal authorities, the presidents of the CNEA and CONICET, members of the community of San Antonio de los Cobres and the International Collaboration at QUBIC, the QUBIC Observatory was inaugurated with great success. November 23 was a day of great emotion for all those present

QUBIC Observatory: Aerial view during the inauguration (Credit: MINCyT)
Galery of  images:
Galery 1 (Credits: MINCyT)
Galery 2 (Credits: Alexis Mancilla)
———————————————————————————
QUBIC INSTALADO Y EN FUNCIONAMIENTO
26 de octubre de 2022
Luego de una intensa semana de trabajo, para  integración y testeo del instrumento y sus subsistemas en Alto Chorrillos,  QUBIC fue instalado en la montura de observación, dentro de su albergue.
Un día de trabajo en Alto Chorrillos, San Antonio de los Cobres
QUBIC LLEGÓ A ALTO CHORRILLOS
El 16 de octubre de 2022 tras un viaje en que se tomaron todos los recaudos y se siguieron las recomendaciones para el transporte  del equipo a Alto Chorrillos, el instrumento arribó a su destino final. A partir del 17 de octubre se iniciará la integración del  la montura y el instrumento en su albergue.

QUBIC está listo para su instalación en Alto Chorrillos
Las pruebas de funcionamiento del instrumento en el Laboratorio de Integración de la CNEA-RNO, Salta, entre julio y agosto de 2022 fueron muy exitosas
En el video, QUBIC en la montura de prueba, observando el cielo
El primer objeto astronómico observado por QUBIC fue la Luna

.

Se predijo un FWHM de 1 grado y se confirmó, como se puede ver en la imagen.

¡Un gran logro para la Colaboración!
Después de varios meses de arduo trabajo, el albergue y la cúpula de QUBIC están listos para recibir el instrumento en Alto Chorrillos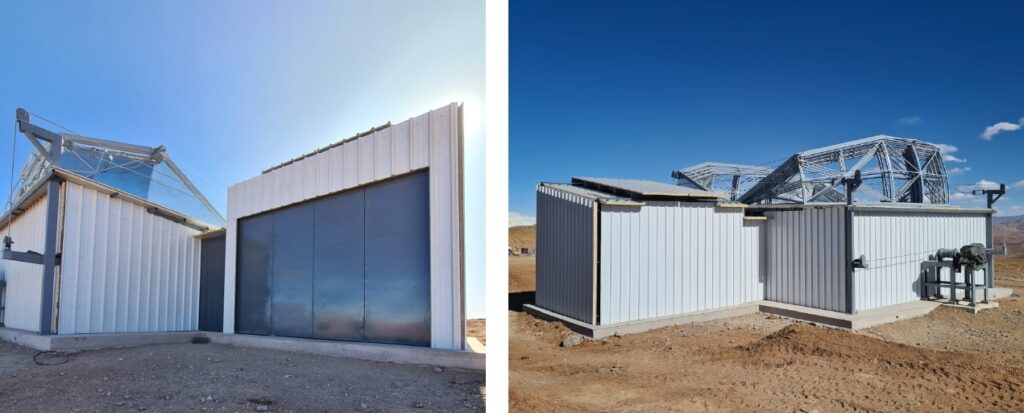 La inauguración del Observatorio QUBIC será el 23 de noviembre de 2022 (Agenda)
---
QUBIC (Q-U Bolometric Interferometer for Cosmology) es un proyecto internacional de cosmología experimental que tiene como objetivo medir el modo B en la polarización de la radiacion de fondo en microondas (CMB, por Cosmic Microwave Background), a fin de descubrir qué ocurrió en los primeros instantes después del nacimiento del Univeso. El modo B de polarización estaría relacionado con ondas gravitacionales primordiales, predichas por la Teoría inflacionaria, una modificación de la Teoria del Big Bang, que predice una expansion exponencial en los primeros instantes de vida del Universo.
El proyecto es llevado adelante por una colaboración internacional que involucra instituciones de Francia, Italia, Reino Unido, Irlanda, Estados Unidos y la República Argentina. Nuestro país fue elegido como sede del primer instrumento, que se ubicará en la zona de Alto Chorrillos, Provincia de Salta, a 4.900 metros sobre el nivel del mar – sitio que albergará también al radiotelescopio argentino-brasileño LLAMA (Large Latin American Millimiter Array)-. De esta manera, el Noroeste argentino se transformará en un centro de atracción científica a nivel nacional, regional y global.
—————————————————————————
QUBIC INSTALLED AND IN OPERATION
October 26th, 2022
After an intense week of work to integrate and test the instrument and its subsystems in Alto Chorrillos, QUBIC was installed on the observation mount, inside its shelter.
A day of work in Alto Chorrillos, San Antonio de los Cobres
QUBIC ARRIVED IN ALTO CHORRILLOS
On October 16, 2022, after a trip in which all precautions were taken and the recommendations for transporting the equipment to Alto Chorrillos were followed, the instrument arrived at its final destination. As of October 17, the integration of the mount and the instrument in its shelter will begin.

QUBIC is ready for the installation in Alto Chorrillos
The tests of the instrument performance in the Laboratory of Integration in CNEA-RNO,  Salta,  between July and August 2022 were very successful
In the video, QUBIC on the testing mount, observing the sky
The first astronomical object observed by QUBIC was the Moon. A predicted FWHM of 1 degree was confirmed, as can be seen in the image. A great achievement for the Collaboration!
After several months of hard work, the shelter and dome for QUBIC are ready to  receive the instrument in Alto Chorrillos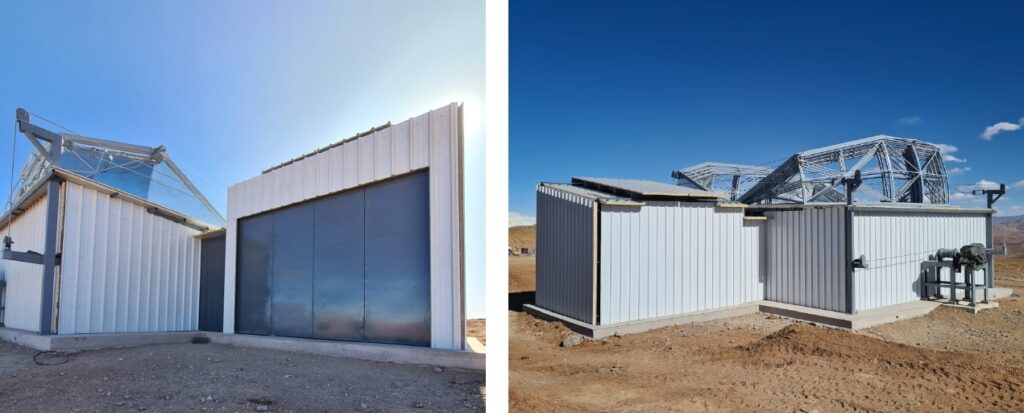 The inauguration of QUBIC Observatory will be
in November 23, 2022 (Agenda)
---
Visit of Matías Zaldarriaga – 09/08/2022
A few days before the installation of QUBIC in San Antonio de los Cobres and during the process of disassembling and packaging its components, Matías Zaldarriaga visited the instrument integration laboratory at the Northwest Regional CNEA.
Matías Zaldarriaga is the Argentine scientist who proposed the existence of B modes of polarization of background radiation in microwaves, not yet discovered experimentally and object of study by QUBIC.
---
Visit to the QUBIC Integration Laboratory




72nd anniversary of the CNEA
On June 8, after the act for the 72nd anniversary of the CNEA, a special visit was made for the guests and authorities of the CNEA who did not know the instrument. The tour was guided by Ing. Cristian Rodríguez, head of the Laboratory.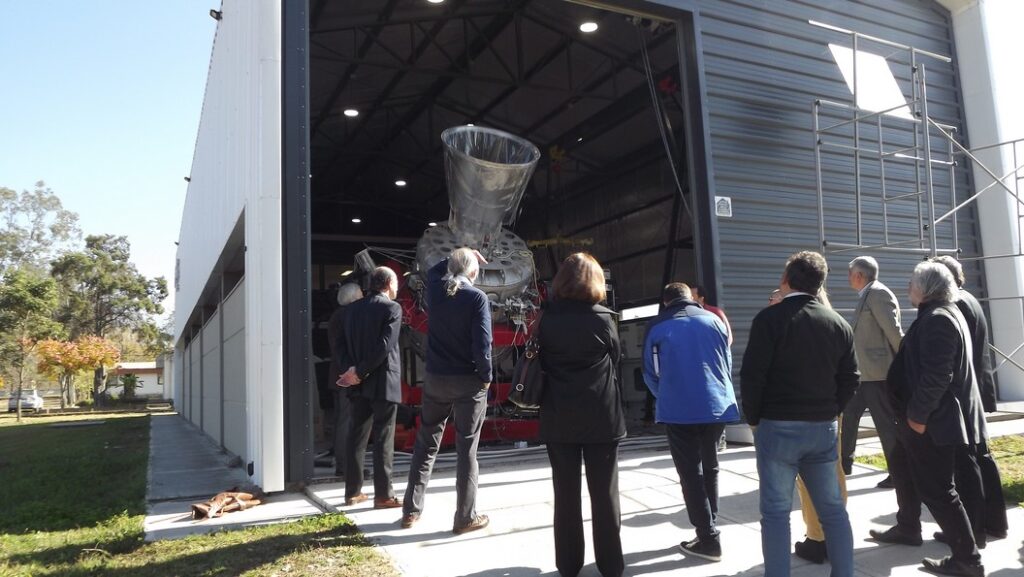 In the photo (with QUBIC in the background) and from left to right: Ing. Cristian Rodríguez (responsible for the QUBIC Integration Lab), Ing. Inés Torino (Northwest Regional Deputy Manager, Raw Materials Exploration Management) and Dr. Alberto Becchio (director of the Scientific and Technological Center CONICET Salta-Jujuy).
---
QUBIC

featured in a special edition of the Journal for Cosmology and Astroparticle Physics
On April 21, 2022, a special edition of the Journal of Cosmology and Astroparticle Physics was published exclusively dedicated to QUBIC, with 8 articles that describe the instrumental concept, present the results of the laboratory tests on the operation of all its components and the scientific capabilities of the instrument.
The   papers are available at the following links:
–Paper I:  Overview and science program
–Paper II: Spectral polarimetry with bolometryc interfeometry
–Paper III: Laboratory characterization
–Paper IV:  Performance of TES bolometers and redout electronics
–Paper V:  Cryogenic system and  design and performance
–Paper VI: Cryogenic half wave plate rotator, design and performance
–Paper VII: The freedhorn-switch system of the technological demonstrator
-Paper VIII: Optical design performance
———————————–
October 26, 2021, 11:00 a.m. (ARG) – Inauguration of the QUBIC Integration Laboratory at CNEA Regional Noroeste.
With the presence of the Minister of Science, Technology and Innovation of the Nation, Lic. Daniel Filmus, the Minister of Education, Culture, Science and Technology of the Province of Salta, Mag. Matías Canepa, the President of the CONICET, Dr. Ana Franchi, Mrs. President of CNEA, Dr. Adriana Serquis and the representatives of the Board of Directors of QUBIC in Argentina, Drs. Alberto Etchegoyen and Gustavo Romero, the QUBIC Integration Laboratory was inaugurated.
This is a fundamental step for the installation of the instrument that seeks to analyze the traces of the primordial gravitational waves, which occurred 13,800 million years ago, linked to the moment of universal inflation.
Photo gallery HERE  (Credits: CNEA Presidence).
"A MICROWAVE TELESCOPE IN THE PUNA SALTEÑA".
---
QUBIC (Q-U Bolometric Interferometer for Cosmology) is an international project of experimental cosmology that aims to measure the B-mode in the polarization of microwave background radiation (CMB, for Cosmic Microwave Background), in order to discover what happened in the first moments after the birth of the Universe. Mode B of polarization would be related to primordial gravitational waves, predicted by the Inflationary Theory, a modification of the Big Bang Theory, which predicts an exponential expansion in the first moments of life of the Universe.
The project is carried out by an international collaboration that involves institutions from France, Italy, the United Kingdom, Ireland, the United States and the Argentine Republic. Our country was chosen as the site of the first instrument, which will be located in the Alto Chorrillos area, Salta Province, at 4,900 meters above sea level – a site that will also house the Argentine-Brazilian radio telescope LLAMA (Large Latin American Millimiter Array) -. In this way, the Argentine Northwest will become a center of scientific attraction at a national, regional and global level.